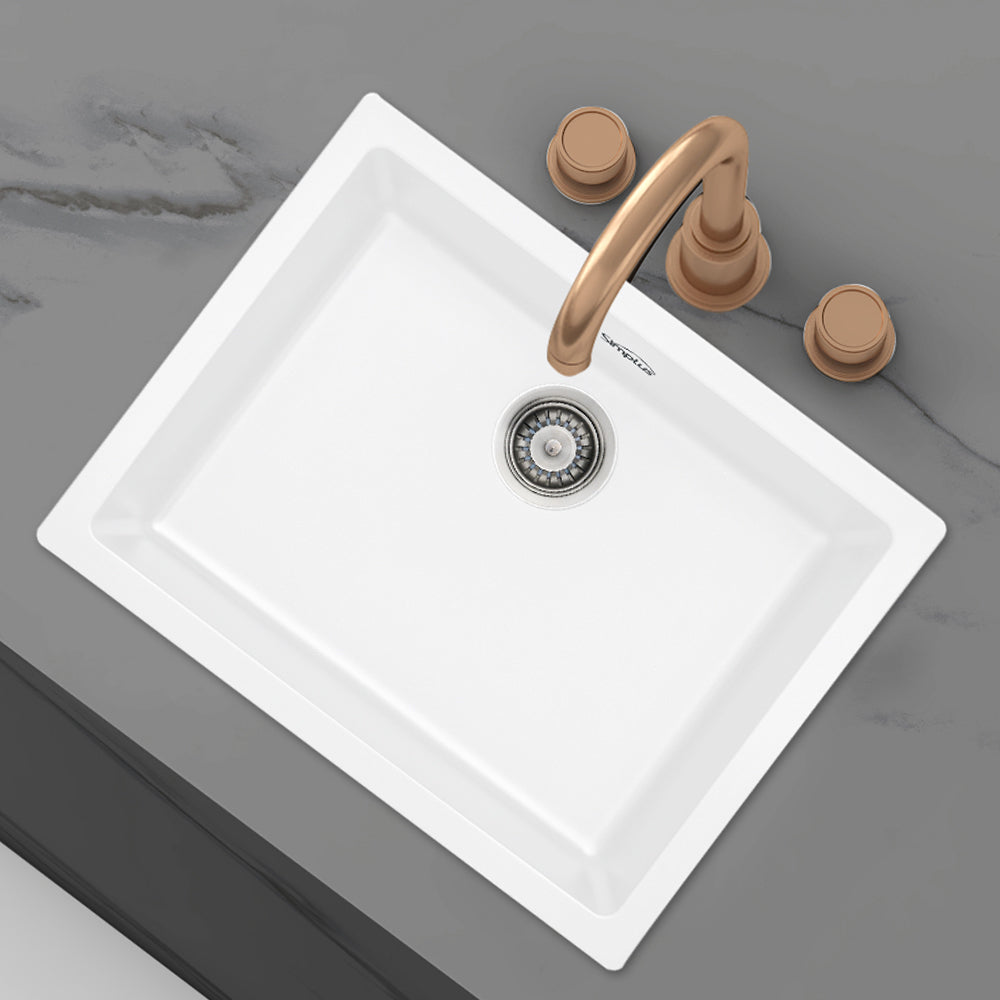 Bathroom Sinks
Do you want a sink in your bathroom that complements your decor while still being practical and functional? You'll find all that and more when you shop for bathroom sinks with Sinks & Bowls.
About Bathroom Sinks
Do you want a sink in your bathroom that complements your decor while still being practical and functional? You'll find all that and more when you shop for bathroom sinks with Sinks & Bowls. 
Like our kitchen sinks and laundry sinks, our bathroom sinks are available in multiple shapes, sizes and materials. Browse our inventory of premium sinks to find a piece that suits your needs and stylistic preferences.
Shop with us for bathroom sinks for your home, office, or workshop in Melbourne, Sydney, Adelaide, Brisbane, Gold Coast or other locations in Australia
As a 100% Australian-owned company, Sinks & Bowls is proud to be a trusted source for sinks among homeowners and business owners nationwide. Our bathroom sinks, like the rest of our inventory, strike the ultimate balance between beauty and functionality.
We stock our collections with nothing but the absolute best. We're committed to working exclusively with reputable manufacturers using the best materials and the latest techniques to create quality sinks. Still, we price our items fairly so customers can enjoy massive savings on premium products like bathroom sinks and sink accessories.
View our inventory of modern bathroom sinks
Our inventory of bathroom sinks comes in all shapes, sizes and styles. We have small bathroom sinks and deep bathroom sinks, black bathroom sinks and white bathroom sinks and too many more varieties to name. You'll have no trouble finding a sink that's functional and suits your aesthetic preferences.
We currently have bathroom sinks in both our Ema and Eva collections. The bathroom sinks in our Ema collection are made using hardwearing stainless steel that's rust-resistant, food-grade and hygienic. They also have an anti-discolouring and anti-scratch coating to keep them looking newer for longer. In our Eva collection, you'll find bathroom sinks made from premium-grade granite stone with a nano-coated surface and both an anti-scratch and anti-discolouring layer.
That said, you'll find much more than bathroom sinks in our inventory. We also offer carefully curated laundry and kitchen sink collections, including the convenient and multi-use workstation sinks in our Sima collection. Take a look at what we have available to find what you need for your home or business!
The benefits of having an updated sink in the bathroom
Updating your bathroom sink is a great improvement project for homes and businesses alike. The sink is a focal point in any bathroom — swapping it with something nicer can completely transform the look and feel of the room. Here are some reasons to consider investing in a new and improved sink for your bathroom.
Upgrades to your home's bathroom can increase your home's value

New sinks can be pretty affordable, especially if you opt for one of our more competitively priced options

A clean and updated sink can improve the overall appearance of your bathroom and make it look newer
New bathroom sinks can leave a positive impression on people. If you hope to sell your home soon, an updated sink could appeal to potential home buyers. Clean sinks without stains or cracks are also more appealing to customers visiting your business. They make you look more hygienic, organised and professional.
How to decide on a bathroom sink
Sinks are an essential feature of any bathroom, as they offer a stylish and practical way to wash your hands and complete your hygiene tasks. Though they serve the same purpose, not all bathroom sinks are exactly alike. To help you make an informed decision, we've created a short guide to help you decide on the perfect bathroom sink for your home or business. Your first step is to consider a few key factors, such as:
The size of your bathroom

Your design preferences

Your budget
Once you've considered these details, you'll have the info you need to narrow your search. If you realise your budget is tight, for example, you can focus on sinks made from less expensive materials. For more guidance on selecting the right bathroom sink, check out the tips below:
Determine the size and configuration
Remember to measure the area where you'd like your bathroom sink installed. We do have a return policy, but you don't want to waste time ordering something that won't be a perfect fit. Make sure you've decided on a practical size and configuration that suits the bathroom's layout.
Always contact a professional plumber. They can confidently measure the cut-out sizes and help you make decisions about what will or won't work for the space
Decide on a bathroom sink material
At Sinks & Bowls, we have bathroom sinks made from granite stone and stainless steel. Neither material is inherently superior, but they have pros and cons that can help you choose between them.
Granite stone sinks usually cost more than stainless steel sinks, but they're more resistant to scratches, quieter and available in a broader range of colours. Stainless steel sinks typically cost less and are long-lasting and easier to install. Both our stainless steel and stone sinks are made using premium materials, so your choice may mostly come down to aesthetic preferences rather than quality.
Match your bathroom's aesthetic
It's essential to understand what sort of vibe or aesthetic you're going for. You don't want your sink to clash with the rest of your bathroom. Stainless steel sinks are sleek, modern and versatile, making them a popular choice for contemporary bathrooms. Stone sinks give off a more elegant and sophisticated vibe, which could make your bathroom feel more tranquil and spa-like.
Find quality bathroom sinks in Melbourne with Sinks & Bowls
With our balance of luxury and functionality, there's no better place to shop for bathroom sinks than Sinks & Bowls. Of course, there are more reasons to buy from us than our top-tier inventory. We're committed to creating a stress-free shopping experience by accepting multiple payment methods, including all major credit cards, PayPal, Apple Pay, Google Pay and Shop Pay. We also offer a 14-day return policy and fast and affordable shipping.
We pride ourselves on our exceptional customer service. That's why our knowledgeable and friendly team is always here to assist you, whether you're looking for
bathroom sink ideas
or have questions about the installation. To reach out to our team, please fill out our
submission form
. We'll get back in touch with you as soon as possible.